OVER 30 YEARS OF SERVICE EXCELLENCE
Providing the most experienced & quality service
Control Technologies built its success on the foundation of providing our customers with the best in quality, support, reliability, and experience. Our fleet of enthusiastic, knowledgeable, and hard-working technicians are committed to providing best-in-class building automation system (BAS) services since 1986.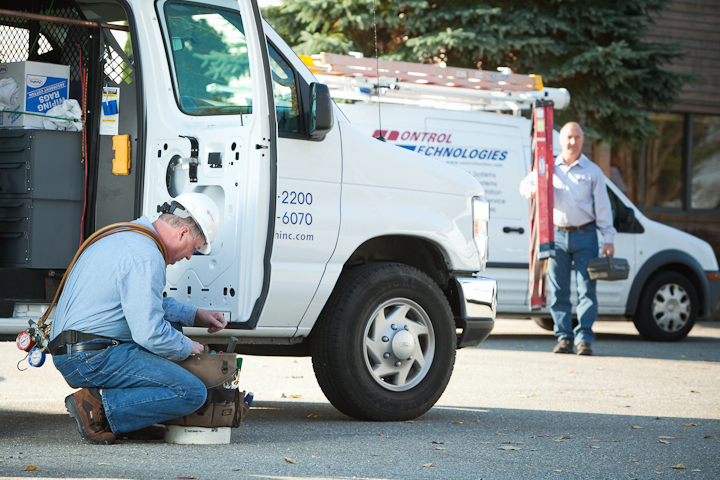 OUR SERVICE TEAM
EXPERIENCE * CERTIFIED * CUSTOMER FOCUSED


We know that in order to provide the best service for our customers, we have to invest in our employees.

We appreciate our employees and pride ourselves on providing the best training to our technicians. Through continuous employee training and certification updates, we ensure that we have the most experienced team of techs that are ready to solve your building challenges.
LICENSES & CERTIFICATIONS
Distech Controls GFX Certification
NATETM, NiagaraAX, NiagaraN
OSHATM 10 & OSHATM 30
Sheet Metal Journeyman
EPA Refrigerant
State Refrigeration License
State Oil License
State Gasfitters & Pipefitters License

AVAILABLE WHEN YOU NEED US
24 HOURS A DAY/365 DAYS A YEAR
Our customers can count on us 24 hours a day, 365 days a year for mechanical and controls service.

Need service now? Give us a call
INTEGRATED BUILDING ANALYTICS
Real-Time Strategic Maintenance
While Preventative Maintenance is effective at reducing system downtime and extending the life of your building's systems, our Integrated Analytics Solutions goes beyond by harnessing the big data from your building to continuously analyze all of your equipment and controls in real-time. This actionable building intelligence provides the vision to efficiently identify and prioritize system and equipment failures for accelerated resolution.